3D Optical Macro / Microscope
Products
Up to 1.2" (30mm) depth of field, parallax free imaging, shadow free or 3D-illumination, up to 10 megapixel resolution.

Are you involved in macro photography and have problems with lack of real depth of field?
Do you need a high quality solution which works in real time avoiding the problems of small apertures (loss of resolution and massive amounts of light required)?
The systems shown here are examples only. Due to the constant changes in camera technology, compatible cameras and microscope design are subject to change. Note that in order to achieve such high depth of field, the camera has to be precisely matched to our system. The systems sold are matched specifically to the respective camera we specify.
The following table lists the depth of field available for the respective field of view (the maximum size of the object you wish to image).
Zoom Setting

Depth of Field
(focused at half height at F11)

Field of View
(4:3 image format)

mm

mm

inch

mm

inch

50

30

1.181"

120 x 80

4.7 x 3.2"

70

25

0.984"

95 x 63

3.7 x 2.5"

90

19

0.748"

75 x 50

3.0 x 2.0"

135

12

0.472"

50 x 35

2.0 x 1.4"

200

8

0.315"

35 x 23

1.4 x 0.9"

300

4

0.158"

24 x 16

0.9 x 0.6"

420

2

0.079"

18 x 12

0.7 x 0.5"
Example values for Panasonic FZ50 camera. Values for other cameras may vary.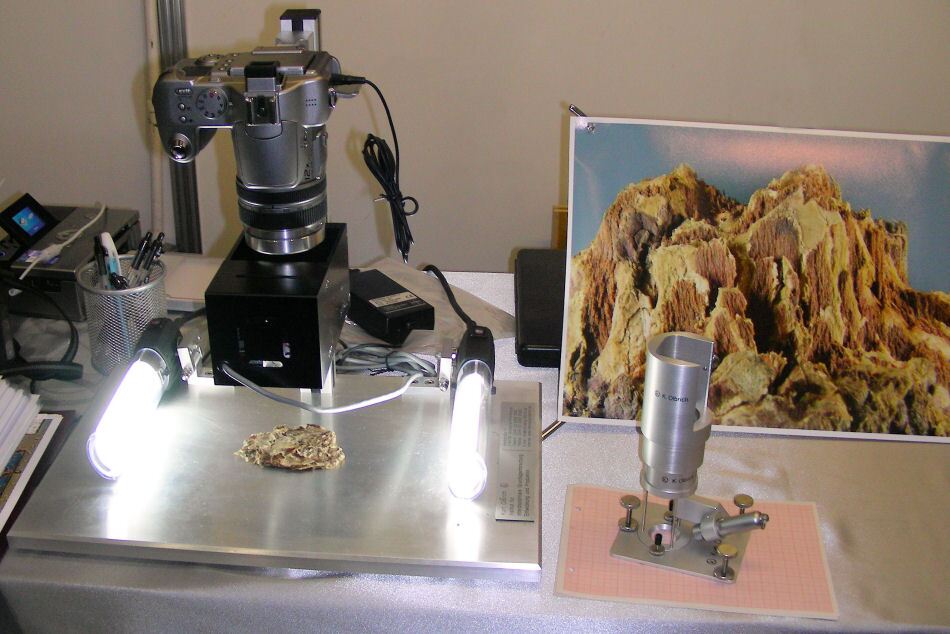 3D Optical Macro / Microscope with Panasonic DMC-FZ50. Recommended cameras may vary.

Portable Microscope (without camera)

Features:

ü
Illumination in the Z-axis absolutely shadow and parallax free (with optional light box)

ü
3D effect with high resolution (no shadows like those seen with oblique)

ü
Even flat structures, like fiber mats and paper, can be seen with high DOF and 3D effect

ü
New perspectives possible when combining the 2 light sources

ü
High resolution - full 8/10 megapixel capability supported by our optics

ü
Natural-color rendition, High contour sharpness, full color contrast

ü
Quick and easy to use

ü
Easily portable for lab or field use.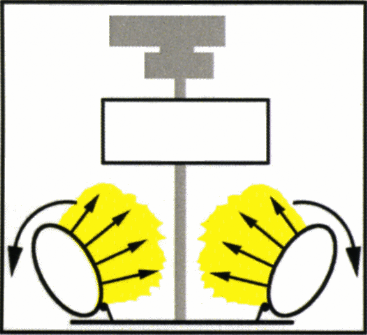 Flat side illumination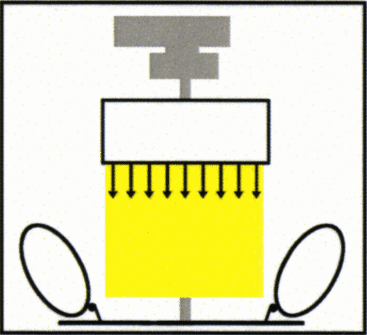 Shadowless illumination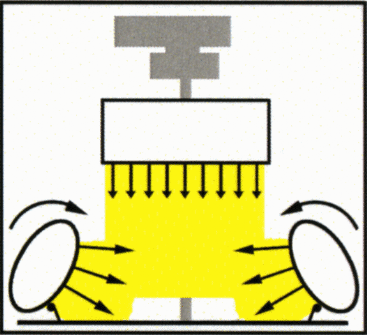 Vertical and horizontal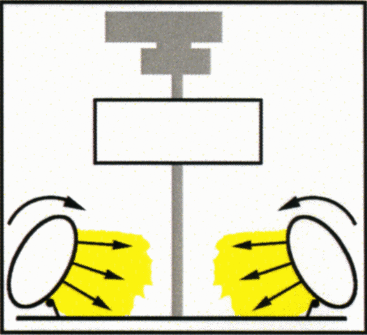 Side illumination (3D effect)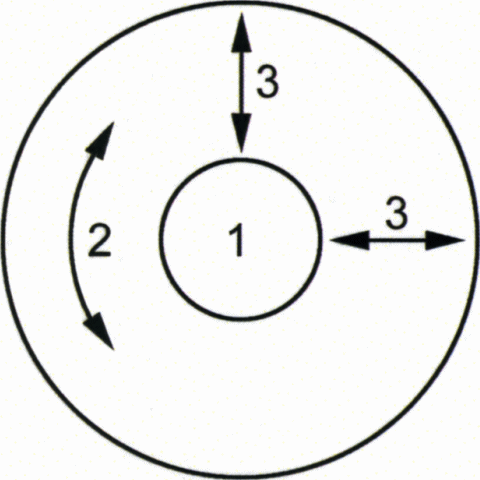 Optional Stage: 1. Stage insert,
2. Turntable 360°, 3. Movable
This innovative 3D microscope targets the needs of Forensic Science, Metallurgy, Geology, Archaeology, Biology, the diamond industry, and other disciplines.
This microscope system introduces an entirely new approach in light microscopy by creating a variable cylinder of focus plane: the basis for the three dimensional view. Another innovation, incorporating a parallel light path, results in sharp contours. This system is not only superior to all known light microscopy techniques, but also renders obsolete the use of stereoscopic microscopes that create an illusion of depth and 3 dimensions. The inherent parallax errors (distortion from oblique paths) experienced by traditional stereo microscopes are eliminated by the 3DOM. The way the system controls the light path results in an extremely sharp image with natural colors and the flexibility to vary the color contrast.
The result of these revolutionary techniques is parallax error-free, true 3D images and a depth of field of up to 1.2" (30 millimetres).
Example Images of a Printed Circuit Board imaged with a conventional light source

Same Printed Circuit Board imaged with coaxial light
(from above, shadowless)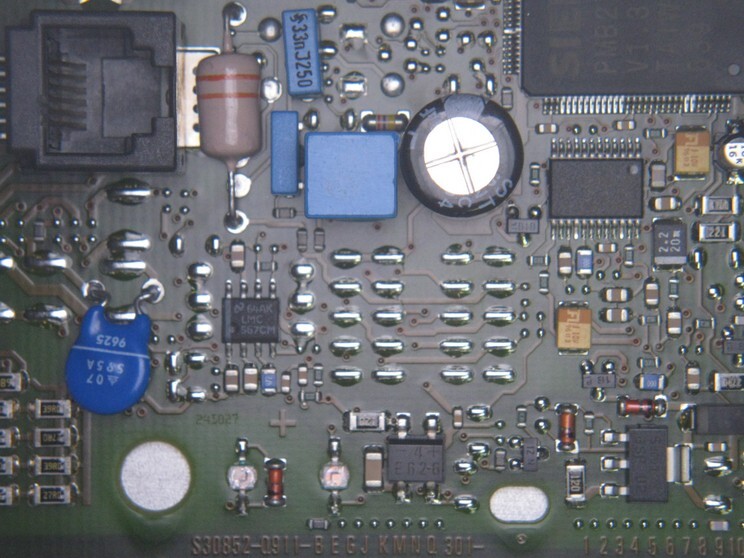 Printed circuit board shown with our special top shadowless lighting.
Notice the improved contrast and image quality possible with the top lighting system.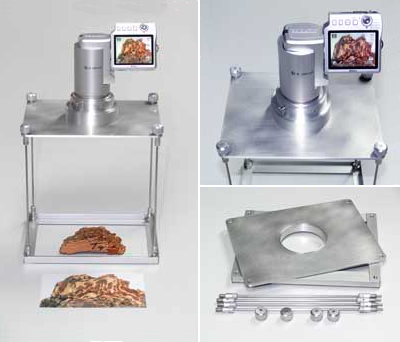 New - Portable 3D Optical Macroscope


Unique enhanced depth of field - 2.5-3mm in the higher zoom range, and up to 38mm at lower zoom settings.


Images are parallax free without distortion and in true color.


In well lit rooms or outside in daylight, no additional illumination is required.


The spacers are designed to that shadows are virtually eliminated.


This system can assembled in a few minutes, yet is very stable. The ideal conpanion to our portable microscope as many of the components can be shared on both systems and can be used as a set.

FAQ

1. Can other cameras be used?

The optical lens system used has to be perfectly matched to the camera used in order to obtain the optimum depth of field and the ability to zoom without refocussing. It is therefore not possible to simply use a different camera with the existing lens system. As most modern digital cameras are only available for a limited period, this system is constantly being redesigend for new camera systems. Please ask which cameras are currently supported before purchase.
2. My Panasonic Lumix Camera does not work with an external monitor?

The Panasonic Lumix DMC-FZ50 is supplied with an AV video cable which connects a NTSC or PAL TV monitor with a small USB connector on the side of the camera. By default, a video signal is only sent to the monitor in playback mode and remains blank in record mode (ie. when taking pictures). Although this method is not mentioned in the camera's operating manual, the video output, in record mode, can be switched on by simply pressing and holding the image delete key (trash can symbol) for about 5 seconds. The video signal is output in NTSC even if PAL is selected for playback mode.
3. Do I need the light box between the camera and the sample?

The light box is optional and only needed when it is important to have shadow free images (e.g. tall tube like structures, electronic circuits, etc. In most cases, the two side lights can fulfil most needs.
4. Can transmitted light be used?

The 3DOM system can be sold with an additional lighting system, under the stage, for tramsmitted light observations. Please contact us for details if required.