Portable Microscope
Products
Up to 0.16" (4mm) depth of field,
true color contrast, 25x - 100x Zoom microscope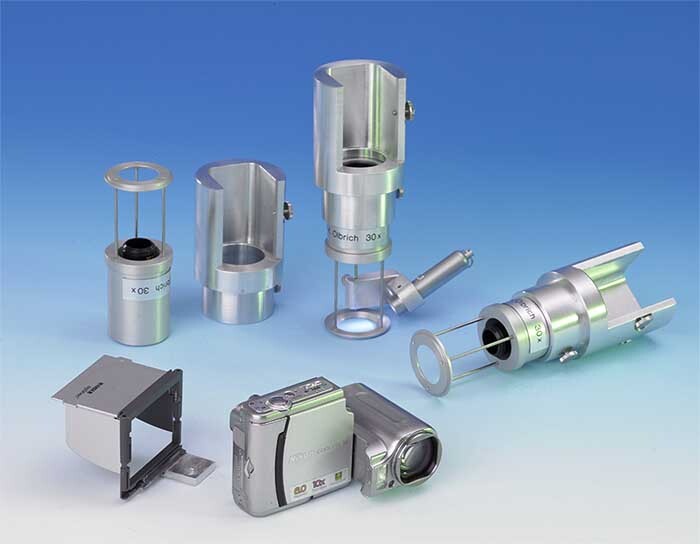 Portable microscope system available for various cameras. Shown here with the Nikon Coolpix S4 as an example only.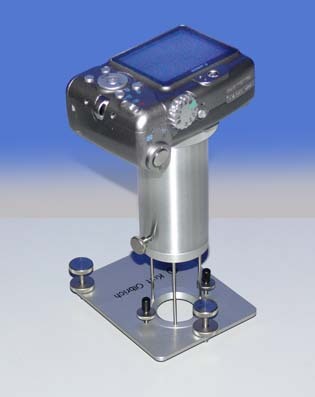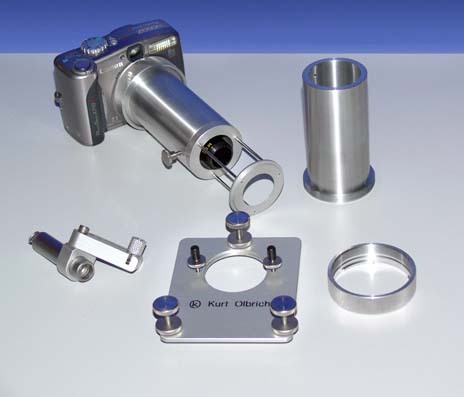 Portable microscope system for Canon A710 IS / A720 IS
The Portable Microscope for up to 0.16" Depth of Field

Special Olbrich Lens System for high resolution and up to 0.16" (4mm) depth of field.
Portable Microscope 25x to 100x with no spherical aberration or parallax errors.
Special bracket system supplied for the camera to be attached.
Options:

Height adjustable base plate for hands-free operation

Attachable LED lighting system for ideal illumination of the subject
One of the biggest problems faced by those using microscopes is the lack of useful depth of field. The more you enlarge an object, the worse it gets. Additionally, microscopes are usually quite large and therefore cumbersome to take out into the field.
This unique new lens adaptor system addresses both of these problems by making use of the unique Olbrich Lens System which will convert the digital cameras we specify into a lightweight, easy to use 25-100x portable microscope with up to 0.16" (4mm) depth of field while retaining excellent resolution, high contrast and true colour rendition!
The first microscope to give you
extra
depth of field!
This microscope system provides an exceptionally high optical resolution, unparalleled 0.06 - 0.16" (1.5 - 4mm) depth of field free of any distortions or parallax errors. Photograph stunning, brilliant 3D images in their true colours!
Due to the fact that digital camera manufacturers are constantly changing their models, the cameras that this system will work with are constantly changing. In the past, we have been using Nikon Coolpix cameras (as shown on this page) as well as cameras from Samsung and Canon. We recommend contacting us before purchasing any specific camera for use with our portable microscope system. Our system consists of an optical system and a seperate camera specific adapter. By purchasing a new adapter, it is possible to upgrade to a different camera while continuing to use the optical system.
The special fixed ring tripod design ensures the portable microscope is used at the ideal working distance for maximum possible depth of field. Even expensive laboratory microscopes do not offer you as much depth of field as this lens system at the same magnifications.
Ideal for pictures of coins, stones, plants, etc. Often used commercially for picturing material faults, blemishes, rust, etc., on-site. This powerful, yet easy to use microscope system offers a wide range of capabilities with a good cost-performance ratio.
Further example images can be found here...


Specifications (Subject to change for technical reasons)

Product Code

4D Lens System (Portable Microscope)

Compatible Cameras

Please contact us to determine current camera

Magnification Range

25x to 100x

Field of View (Image Length)

0.6 up to 0.2"

1.5mm up to 5mm

Depth of Field (at full aperture)

0.6 up to 0.16"

1.5mm up to 4mm

Camera Adapter

Design specific to camera model

Lens System with ring tripod

6.0oz, 4,2 x 1.7"

170g, 109mm x 43mm

Detachable Stand (Optional)

3.4oz, 3.1 x 3.9"

95g, 80x100mm

- Height adjustable

0.6"

15mm

LED Illumination System (Optional)


2.1oz (60g), Color balanced LED Lamp and with adjustable mounting bracket

Alternatively available with LED ring lamp system